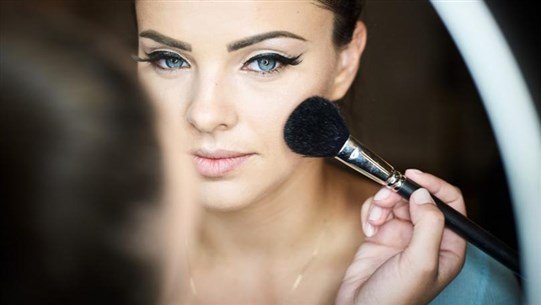 How to do make-up in summer and things to keep in mind.
Summers are here; take out those shorts, sleeve-less and swimming costumes. Dive into the pool, go for vacation and chill out. Summers require cool stuff to drink, light clothing to wear and similarly some do's and don'ts for make-up. Wearing make-up is a process you enjoy and do not take it as a duty. Here we have dug out few expert advises for you to look fresh and perky in rising temperature. Few handy tips can do wonders with your daily summer makeup. How? Here we go……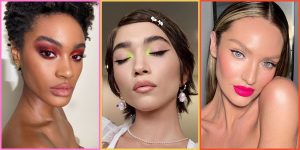 Keep summer friendly products: For those sticky, sweaty summer months you must pick up products conducive for the temperature you are going to survive in. Here is a list of must-haves.
Oil-free moisturiseris a must to apply as it will retain the moisture of your skin, with allowing it to dehydrate. While buying you must check skin type it is suitable for oily, normal and dry also it should be non-comedogenic or oil-free.
Apply sunscreenas a thumb rule in abundance to protect your skin from harmful ultra violet rays. Damages your skin, causes wrinkles, fine lines, blemishes and sun tan. If that is not sufficient then skin cancer as well. Summer makeup kit must have a sunscreen gel or liquid (avoid creams at all cost) with minimum SPF 30. Apply sunscreen before your apply foundation or primer. Titanium based or zinc oxide based sunscreens are considered to be excellent for sensitive skin types.
Avoid cream based productsat all times; it leaves you feeling heavy, caked and claustrophobic in humidity. Apply oil-free liquid or gel based products. They are light on skin, can be combined with liquid foundations easily. Blemish base/balm will even out your skin tone.
Liquid concealerblend well with water based moisturisers. If you are cautious and clever in its application, you can skip the layer of foundation completely. Just apply concealer on the attention seeking spots and go layer-less.
Flip side of waterproof cosmeticsis they block sweat while stopping smudging and running of make-up. Water proof make-up is silicon based leading to rough skin with clogging. Choose "Water-resistant" over water-proof make-up. Choose cosmetics containing polymers and isododecane as they are safer for skin.
Avoid powdered blush and thick creamy lipstick. Use cheek stain or gel for smooth look and sweat proof makeup. Powder blushes are a no-no, it will look artificial. Thick dark shades will be too heavy on the lips in summers. Wear lip-stain, lip-gloss or lip-balm in nude shades for better moisturisation. Try peaches and pinks for neutral look. For a bolder with little prominence use tangerine or grape.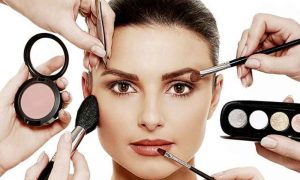 Chill out in summer looks:Few tips for cool summer looks.All you brave hearts step out in the sun to dazzle.
Try matte over shimmer:Products with matte finish work better than shimmer. You do not wish to appear like a shimmery queen in the sun with all sweat. Matte foundation and concealers is a better bid. Use of highlighter should be restricted to matte finish. Shimmers can be included in eye shadow, lip gloss and bronzer.
Bronzer for sun-kissed Brazilian look: Apply a dash of bronzer to nose, cheek-bones, forehead and chin, as these areas get sun tanned easily. Powdered bronzers are light to use and do not turn streaky like cream bronzers in summers.
Avoid opaque lip or eye make-up:Get your natural summer looks with sheer lip gloss/balm in natural shades of pink/peach and eye makeup to be minimal.
Experiment with bright shades like aqua eye-shadow, peach/pink blusher and lip balm. Tip is less is more in summers so stick with less makeup.
Mascara must be clear (black/brown) and not the coloured one; just a layer is good enough to make your lashes look longer and thicker. Go for water-resistant one.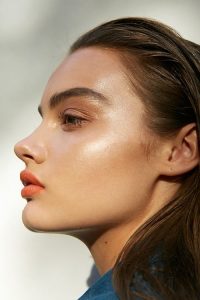 Avoid smudging and melting of make-up the easy way: Grandma's tips suggest usingblotting paper (substitutes are tissue paper or rice paper) more often than a powder to avoid greasiness and clogging of pores, leading to pimples and break-outs. Do not forget to take cold compress with ice on face, neck and back (exposed area) before applying any make-up.
Less is more policyis best in summers. Keep your make-up light; allow your skin to breathe. Keep yourself well hydrated, yes it shows on skin. Tinted make-up is best for the summer season. Tinted moisturiser, lip-balm, eyeliner and mascara you can apply.
Primer for prime look:Apply moisturiser and sunscreen if it's a day make up before you apply primer to cover pores, fine lines, spots and blemishes. Use the one which reduces shine of the foundation, gives a matte look. Primers are available in both tinted and clear formula. Dark/pale complexion can use clear formula, whereas fair/medium skin tone can opt for tinted formula.
Substitute primer with sunscreen:If your sunscreen contains zinc oxide and titanium dioxide than you can skip using primer. These elements can take care of your sensitive skin in the sun.
Primer/powder for eye make-up:Application of eye primer or powder on eyes before eye-shadow, eye-liner or mascara will allow it to stay longer. Water-resistant or water-proof liners will last longer in humid sweaty summers.
Translucent powder/spray:A must have for oily skin, to allow the make-up to remain intact despite sweat. After first application allow matt finish; avoid over doing it, let your skin feel light and breathe. Setting spray with a matt formula is a good alternative to keep your make-up intact. Setting sprays are available with long-lasting formula. They are easy for repetitive use, without causing any hassle or damage.
Wear cotton clothes and hair tied-up:light cotton clothes allow the air to pass and keep the body temperature low further reduces sweating. If you sport long tresses prefer keeping them in a bun or ponytail to avoid sweat in temples, forehead and neck. It will make you feel good and gives you a cool summer looks.